---
Ground Transportation for [Spain/Malaga]
Options for traveling within [Spain/Malaga] for a 21-day period
---
Outline
Car

Train / Bus / Air

Other Options

Estimate of total ground travel expenses
---
Travel Book
I decided to purchase the Malaga & Costa del Sol travel guide book by Andy Symington because of the short resume of it that I found while checking the price how it will tell you everything to know about the city as much as culturally than geographically because some how those two aspects sticks together. In fact, the book is 136 pages, and the price is very affordable. Another reason why I chose this one is that it probably wasn't the cheapest I found but neither was it the most expensive, but I think it contains most information I would need for a 21 days trip stay in Malaga. The following are some details that are contained in this travel guide :
·There are included maps that are Highlighted so that you won't miss anything.
·The size of the guide is small enough for you to transport it everywhere, it fits in your pocket.
·There are tips in the guide very essential and practical to get around very easily.
·There are also detailed street maps for Málaga and other important towns very helpful for taking the bus the metro moving around basically.
·Comprehensive listings including where to have fun, sleep and eat the best tapas.
<![if !supportLineBreakNewLine]>
<![endif]>
<![if !vml]>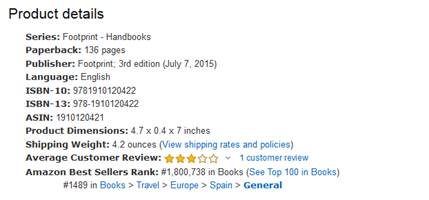 <![endif]>
<![if !vml]>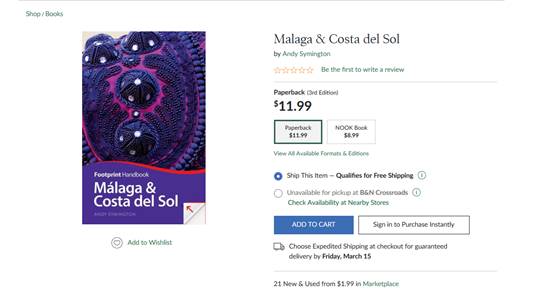 <![endif]> <![if !vml]>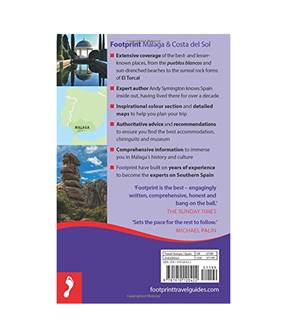 <![endif]>
Car
Renting a car...
The car we decided to rent is a Kia Rio which have a Car fuel tank capacity of 45.0 liters so 11,83 gallons. Any car you decide to rent in Spain is given with a full tank meaning that we will have to make sure to give the car as provided unless we rather pay fees when dropping it of. In fact, the total gas needed to reach the high level of the tank is : since in Malaga the price per liter is 1.4 euro, and the full capacity of the Kio is 45 liters, we will multiply 45*1.4 giving us a total of 63 euro and equivalent of $70.834 so a total of $ 408.794. According to the SIXT rental car company, it seems that when renting this car, I will be required to be in possession of a valid driving license of at least a year old, which should also be valid for use in the E.U. Plus, they require to be at least 21 years old. There is fee that will be charged to me because I am under 25 years old. It appears that every customer between 21-24 years old will have to pay a fee of 3€ per day. And in concerning the fuel, there are possible fees that may apply in case the rented car is returned without putting fuel at full level.
<![if !vml]>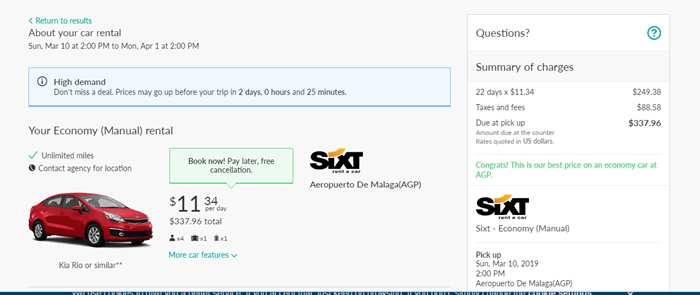 <![endif]>
Train / Bus / Air
My mass transit options are...
Train
RENFE is known to be the Spanish railway company therefore the train service also operating in Malaga. This Company is commonly known as cercanias trains in Spanish. The main railway station is the Maria Zambrano, station with the Malaga- Centro Alameda station. The commuter train is the most used way of transportation between region in the Malaga city, either along the Malaga Coast or inland in the Malaga province. For example, you can go to towns like Torremolinos, Benalmadena and Fuengirola. Nevertheless, tickets for the trains are based on the zones.
On the other hand, we notice that train is again primarily used to travel from Malaga to the inside of Spain using AVE, RENFE and Talgo company. For example, the Madrid Malaga trip has a duration of 2h35 min to 4 hours depending of the time in the day you travel at. Prices eventually vary according to the place you come or go to. While traveling between Madrid Barcelona and Malaga is about 30 euro and more, the trip between Malaga and Seville is about 20 euro and up. On the graphic you can see how prices vary for train trip inside the city's regions this is due to different zones. Therefore, there are two cercanias in Malaga one running from the center out to the west of the city along the costa del sol to Fuengirola which is known as C1 and the other one C2 is the one used inland to Alora. The Maximum price for a ticket on a cercania train is 3,35 euro. If we have to book a trip to Seville from Malaga for two adults, we will notice while booking that any passengers under 26 years old is referred to as youth and from 26 people are identified as adult. To go to Seville, the train will cost $61.85.
<![if !vml]>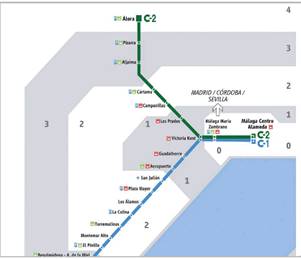 <![endif]><![if !vml]>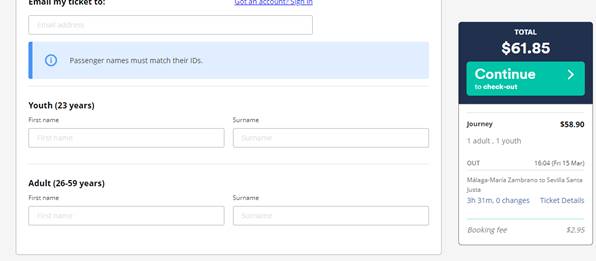 <![endif]>
Air
Malaga is a city of Spain which uses train to move inside the city or country territories while it offers very low prices for trip out of the country. The Malaya Airport is known to be The Pablo Ruiz Picasso Airport, located 8 kilometers from the city. Traveling to Malaga from any European country is very cheap especially during out season periods. It has flight connection to around 60 foreign countries.
<![if !vml]>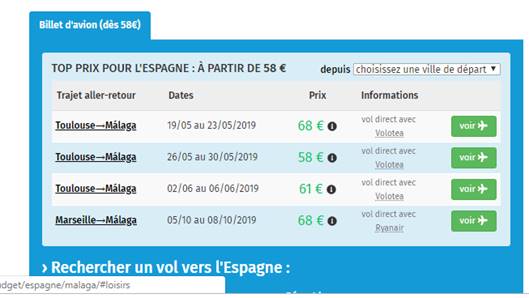 <![endif]>
Bus
The Bus transportation system network is controlled by the EMT Empresa Malaquena de Transportes which is the city network of public buses. The Bus Ticket basically works like the ones in Omaha, NE. One ticket is valid for a whole day from the time it has been used the first time and can be reused in any other bus line. The cost of the ticket is 1.30 euro. Instead of having to pay each time you are taking the Bus, you can subscribe to a 10 days trip ticket which coat 8.30 euro but a best deal would be to pay straight for a month if you know that you use public transportation often, which will come back to cost you 39.95 euro and will save you a lot of money. The Bus system is very frequent and well equipped. While it operates from 6.30am to 11pm, it does have 3-night bus turning around the city from 11pm to 5am this allows people to be able to move around at anytime of the day. As much as you can travel inside the city and in between cities of Spain by train, you also can do the same with travel bus inside the country. Also, there is a Bus in Malaga called the Big Red or else known as Worldover which is meant for tourism purposes below you will have an example of a normal urban bus and on the right the red bus for tourists.
<![if !vml]>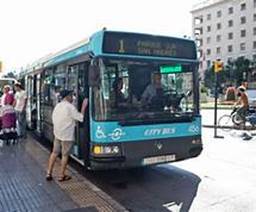 <![endif]> <![if !vml]>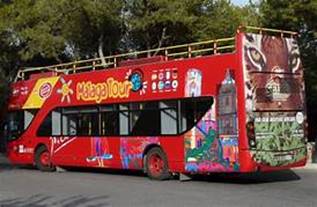 <![endif]>
Metro
The Metro in Malaga has two lines which only operate from 6.30 am to 11pm with no night metro. While metro ticket are around the same price as Buses', it comes to be more expensive to purchase them separately while you can combine the two by buying a Tarjeta Monedero a card which allows you to pay only 0.82 euro for the metro line and in case you transfer from the bus, you would pay 0.65 euro.
<![if !vml]>
<![endif]>
Insert graphic(s)
<![if !vml]>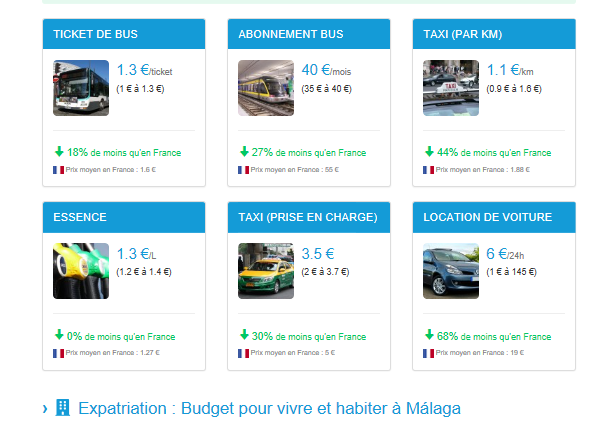 <![endif]>
According to the gathered transportation information above, it looks like the mass transit travel more adequate to move around inside Malaga is by either Bus or Metro, while moving in between Malaga and other cities of Spain is either by Train or Bus. But travel out of the country from Malaga and coming in to Malaga, air is the cheapest fare, like when going to cities like Toulouse in France for about 70 euro only or other countries in Europe.
Other options

<![if !supportLineBreakNewLine]>
<![endif]>
Bicycle
The city of Malaga offers an Urban Bicycles self-guided tour. Those Bikes belonging to the city are equipped with rack, lights, ringer and anti-puncture tires. Lock and helmet are included. 20" and 16" children bike available. Child seats available. This not only helps you to save money than having to pay for a bike guided tour, but you will with this option have the opportunity to know the city of Malaga in your own by bike. You would be able to explore the Malaga coastal area, close natural parks like the "Paraje Natural Desembocadura del Guadalhorce ", from new caffes to traditional fisherman neighberhoods, reach Rincon De la Victoria Town or Torremolinos, enjoying a drink outside while looking at the Malaga environment. Biking is for you the easiest way to explore in the deepest way. All you need to conquer Malaga is a map and a bike and there you go.
<![if !vml]>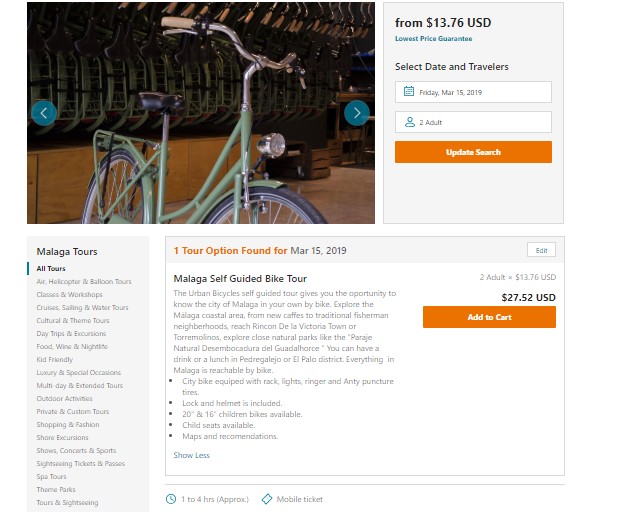 <![endif]>
Taxi
Moving in Taxi in Malaga is very easy because they are at every corner of the city, everywhere to be more exact. To know if the Taxi is available it should have a green light on. Those Taxis go by meters and as common knowledge, meter taxis are expensive but in this case comparing to other countries, Malaga taxis rates are very cheap and could go less than 5 euro pm short distances inside the city. For example, from the airport to the city center, you have more chance to pay about 12 euro plus the baggage fee which will make the price go up to 15 euro.
<![if !vml]>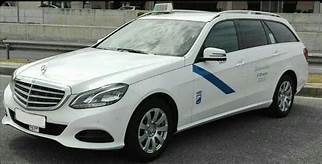 <![endif]>This is what a Taxi meter looks like in Malaga
Rickshaw/Bicitaxi
There is another type of Taxi, known as Bicitaxi or else called Rickshaw, are primarily found in Malaga because the city is the first Andalucía city to offer that service giving its uniqueness to the city. Those Bicitaxis are electrically assisted pedal cycles and only operated from 11am to 8 pm and free to everybody.
<![if !vml]>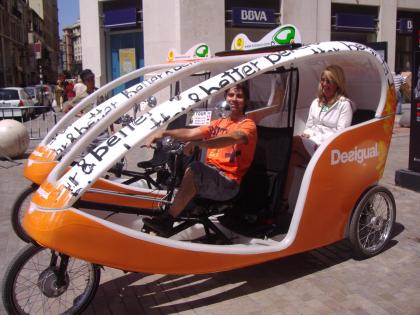 <![endif]>
Looking at all those criterias above on different ways to visit the city of Malaga, the ideal way to visit the Malaga City and move around would be by bicycle or even way better and funny Bicitaxi very popular in Malaga and at no cost.
Estimate of total ground travel expenses
The total cost of traveling within [Spain/Malaga] for a three week period is...
Car: $408.794
Bus/Metro: 40 euro monthly membership
Bicycle: 27.52 euro
Train: $ 61.85
Taxi: 15 euro
BiciTaxi: 0
Air: 68 euro
Total euro : 150.52 euro to USD $169.238 + car fee ($408.794) + Train fee ($61.85)= $639.882
Links
https://www.ou-et-quand.net/budget/espagne/malaga/
(Bus inside the city) http://www.emtsam.es/ for more information about routes and timetables. This webpage is available in both Spanish and English.
For longer distance (Bus booking website)http://estabus.emtsam.es/
Rental car policy company SIXT https://www.sixt.com/faqs/rules-restrictions/
http://www.malagaweb.com/transport/
---
Submitted by [Krystel Audrey Sophie Sidiki Bolanga] on [March 8th 2019].